Wish you were there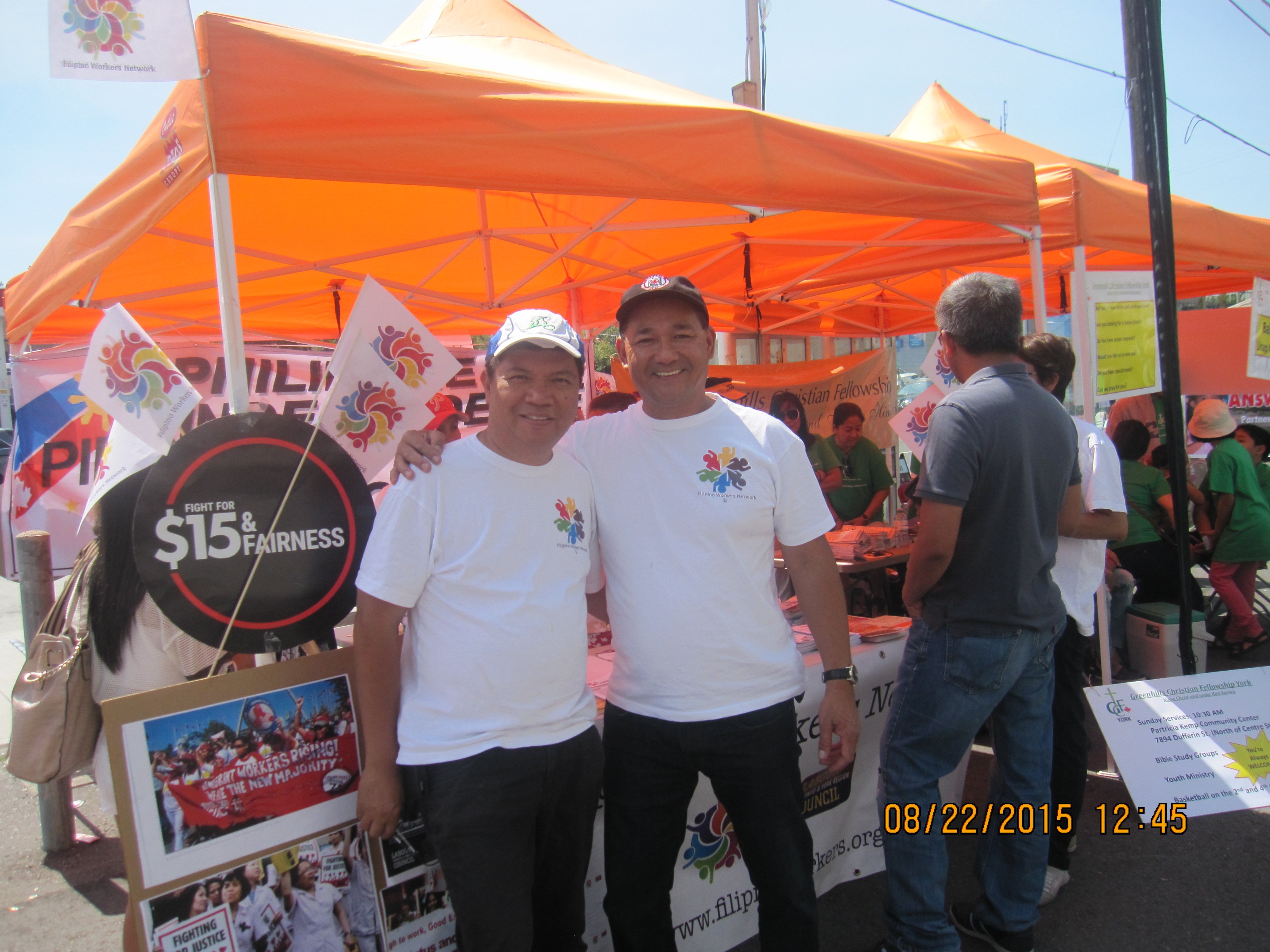 It would have been more fun if you were with us.
The Filipino Workers Network was alive and kicking at the two major Filipino festivals in Toronto. We were there!
Taste of Manila @ Bathurst and Wilson on August 22 and 23, 2015
Taste of Manila, our largest street festival was organized by the Philippine Cultural Community Center and the Philippine Consulate General. The street festival closed Bathurst St from Wilson Ave to Laurelcrest Ave., from 12:01 .am. of August 22 to 7 p.m. of August 23, 2015, longer than the previous year location.
The event attracted more than 100,000 one thousand goers in two days.
The festival was opened with a street parade joined by various Filipino groups and associations. The food vendors presented popular Filipino dishes and street food that can only be had in Filipino festivals. One of the main attractions of Taste of Manila is the "budong fight".  Of course, the trademark of most Filipino events, the main crowd drawer is the imported Filipino talent from the Philippines, Jericho Rosales.
Mabuhay Philippines @ David Pecaut Square in downtown Toronto on August 29 and 30, 2015
Imagine, a back-to-back Filipino event in a span of a week! And both events were successful in raising the profile of the Filipinos in Toronto.
Members of the Filipino Workers Network were in both events. The two events cannot be compared against each other. They actually complement one another. Where one focused on food, the other focused on fashion. Where one presented community participation in the parade, the other showcased the Flores de Mayo parade reminiscent of the May festival in the Philippines complete with the parade of beauty title holders lovely young women, wearing Rene Salud and Shanon Pamaong with flower laden archs and handsome escorts in barongs gracing the more than 80 groups and associations who joined the community parade.
It was an August to be remembered.  It would have been more fun if you were there with us.