Why the Law needs to be fixed: Deputation of Josh Cuasay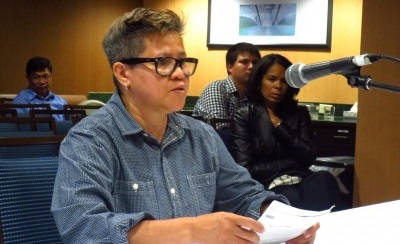 Deputation of Josh Cuasay to the Changing Workplaces Review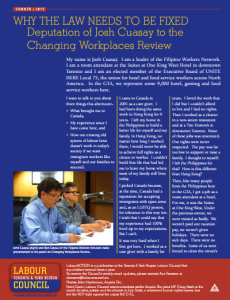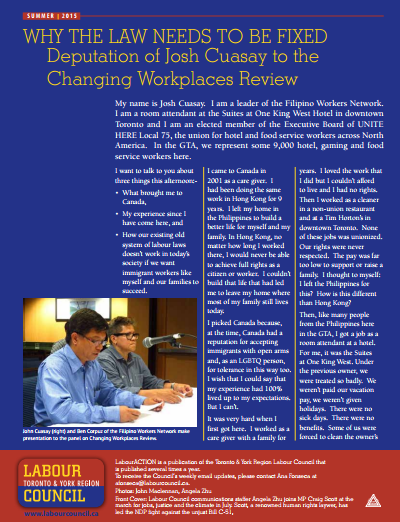 My name is Josh Cuasay. I am a leader of the Filipino Workers' Network. I am a room attendant at the Suites at One King West Hotel in downtown Toronto and I am an elected member of the Executive Board of UNITE HERE Local 75, the union for hotel and food service workers across North America. In the Greater Toronto Area, we represent some 9,000 hotel, gaming and food service workers here. I want to talk to you about three things this afternoon:
What brought me to Canada,
My experience since I have come here, and
How our existing old system of labour laws doesn't work in today's society if we want immigrant workers like myself and our families to succeed.
I came to Canada in 2001 as a care giver. I had been doing the same work in Hong Kong for 9 years. I left my home in the Philippines to build a better life for myself and my family. In Hong Kong, no matter how long I worked there, I would never be able to achieve full rights as a citizen or worker. I couldn't build that life that had led me to leave my home where most of my family still lives today. I picked Canada because, at the time, Canada had a reputation for accepting immigrants with open arms and, as an LGBTQ person, for tolerance in this way too. I wish that I could say that my experience had 100% lived up to my expectations. But I can't. Read more go to page 2 …