TCBN Construction Trades Information session with the Filipino Community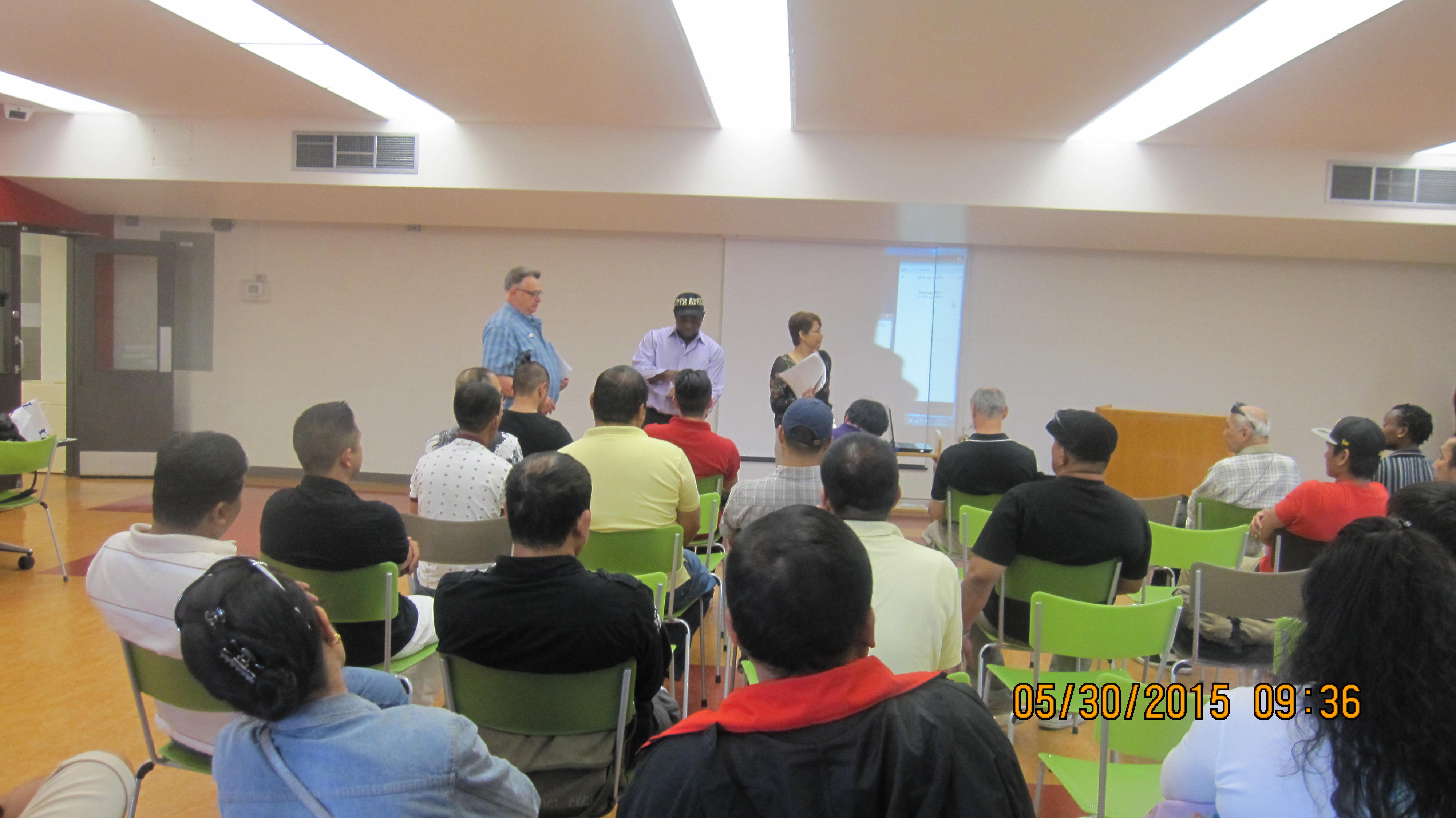 The Toronto Community Benefits Network (TCBN) in partnership with the Philippine Advancement through Arts and Culture (PATAC) and the Filipino Workers Network (FWN) conducted a construction trades information seminar with the Filipino community last May 30, 2015 at the Bendale Toronto Public Library in Scarborough.
Paulina Corpuz, President of Philippine Advancement for Arts and Culture (PATAC) and an active member of Filipino Workers Network (FWN) organized the event. A total of 75 participants availed of the opportunity to learn more about the construction job opportunities with the Metrolinx project of building the Eglinton Crosstown in 2016.
Prince Sibanda of TCBN facilitated the session. Steve Shallhorn, Executive Director of Labour Education Centre (LEC) spoke about the construction trades, pre-apprenticeship training program, trade readiness, employment preparation and academic upgrading. Rick Ciccarelli also of TCBN was on hand to assist in the session. Judy Brooks, Community Benefits Specialist of Metrolinx explained the Eglinton Crosstown project. Employment Counsellors and Job Developers from TCBN, LEC, Woodgreen and Thorncliffe Neighborhood were on hand to interview and pre-screen interested participants. Representatives from the Filipino Workers Network and the United Way were also present. Volunteers from PATAC and Migrante Canada to helped in the registration and logistical support.
The seminar was part of the ongoing project of TCBN. TCBN has signed a historic Community Benefits Framework with Metrolinx, and seeks to engage and recruit residents from historically disadvantaged communities and equity seeking groups into the building and construction trades, for jobs that will come with the construction of the Eglinton Crosstown.
Metrolinx, an agency of the Government of Ontario is planning and building a transportation system that allows residents to travel across the region more quickly and efficiently. The Eglinton Crosstown is part of this system, with 19km of track running from Weston Road to Kennedy Station. At over $4 billion it is the largest construction contract in the history of the City.
The half-day seminar brought to the fore long term job security for Filipino migrants in Canada which number 40,000 in Scarborough alone. Recent reports from Immigration and Citizenship Canada consider the Philippines as the number one source of immigrants which currently is at 600,000 all over Canada.
The information session opened the eyes of many that construction trades provide good wages. Like any other job, the work is hard and requires working outdoors and in all weather. Apprentice starting wages are $15-$17 plus a full benefits package. After about 4 years of on-the-job training, and some classroom time, you can become a Journeyperson with wages about $35-$40/hr plus benefits. Training will take place at a Ministry of Training, Colleges and Universities approved building trades training centres. Construction will begin in early 2016.