RESPONSE TO POPE FRANCIS'S ENCYCLICAL CALLING FOR ACTION TO COMBAT GLOBAL WARMING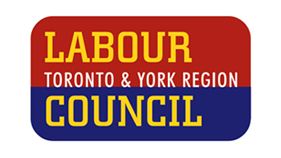 FOR IMMEDIATE RELEASE
June 19, 2015
The Toronto & York Region Labour Council welcomes Pope Francis's encyclical "Laudato Si" which challenges humankind to take real and immediate measures to combat global warming.
The Labour Council has been advocating for sustainability and green economic development for many years. We welcome the Pope's progressive assertion that the issue of climate change is also one of social justice, with deep roots in structural injustice, and we are heartened by his remark about climate-change deniers, whom he criticizes for "standing in the way of a solution."
There are many forces that have been obstructing progress on addressing climate change. Fossil fuel corporations have been using their growing wealth and power to assert an "extreme energy" agenda; this includes using far riskier energy extraction methods to get to difficult to reach and often highly polluting fossil fuels (tar sands, hydraulic fracking, arctic drilling). The extreme energy agenda has serious implications for communities, workers, the climate, and the environment in both the short-term and the long-term.
The Labour Council is particularly pleased by Pope Francis's acknowledgement that climate change and the rising temperatures are a primarily man-made problem. Francis refers to the "numerous scientific studies" that indicate that "the greater part of the global warming in recent decades is due to the great concentration of greenhouse gases, given off above all because of human activity." He offers a dire warning that humanity's "reckless" behaviour, if allowed to continue, will result in "grave consequences" for all of us —beginning with the most vulnerable of our society, which can often include the working class and those who suffer from the effects of growing income and social inequality.
It is morally indefensible for corporations and governments to continue to pursue an economic growth strategy that brings our climate closer to an irreversible tipping point. As Canadians, we reject the assertion that we must choose between the economy and the environment — it is possible to accomplish both. Real climate action means investing in mass public transit, clean energy infrastructure and affordable housing.  It means expanding low-carbon sectors like healthcare, education, and sustainable agriculture.  By taking real climate action, we can create an economy that is more fair and equal and offers hundreds of thousands of good new jobs.
Canada needs an energy economy that respects Indigenous communities and creates good, clean jobs for workers. The Labour Council calls upon the Canadian government to go to the Paris climate negotiations with credible climate goals to prevent more than a 2 degree Celsius warming of the world.
Click here for the full "Laudato Si" encyclical document.
For inquiries, contact:

Angela Zhu, Communications, Toronto & York Region Labour Council, 647.232.7427
communications@labourcouncil.ca
Toronto & York Region Labour Council, 15 Gervais Dr., Suite 407, Don Mills, ON    M3C 1Y8
labourcouncil.ca