Interested in building a career in the Construction trades?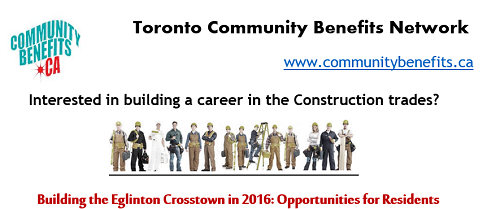 Building the Eglinton Crosstown in 2016: Opportunities for Residents
Is a career in the Unionised Construction Sector right for you? Do you love working with your hands? Do you enjoy learning and bettering your skills? Are you looking for a secure job future? Wages are good, but the work is hard, outdoors and in all weather. Apprentice starting wages are $15-$17 plus a full benefits package. After about 4 years of on-the-job training, and some classroom time, you can become a Journeyperson with wages about $35-$40/hr plus benefits.
Download Flyer here.