Changing Workplace Review – WE CARE!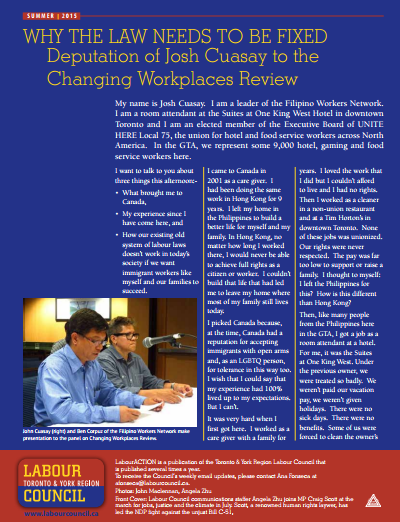 There is power in numbers. Our community has a rich experience in people power. Our caregivers pushed to change the policy in Foreign Domestic Program which gave way to caregivers having access to permanent residency after two years of work. We did that in 1986 people power and ended the long reign of the Marcos government. We did that for the discrimination against the Filipino youth in Scarborough Town Centre. We did that in the Juana Tejada campaign and successfully changed the law to remove the second medical examination.  
Today an opportunity to change the workplace standards and conditions is in front of us. It is time. LET US DO IT AGAIN for hundered of thousands of our Filipino workers in Ontario. We need your story to move the Ontario government to fix the law. Your story will amplify the voices to strongly urge the Ontario government to make the changes that will improve the lives of Ontarian, consequently, of Filipino workers, whether they are unionize or not. The Labour Relations Act and Employment Standards Act govern all of Ontario's workers.
You probably know that a review of the changing nature of the workplace is being conducted.
"The review is considering how the Labour Relations Act, 1995 and Employment Standards Act, 2000 could be amended to best protect workers while supporting businesses in our changing economy. The Employment Standards Act sets out the minimum
standards that employers and employees follow.
Workplace trends that are being examined in the consultation include:
The increase in non-standard working relationships such as temporary jobs, involuntary part-time work, and self-employment.

The rising prominence of the service sector.

Globalization and trade liberalization.

Accelerating technological change.

Greater workplace diversity." (Ministry of Labour website)
Consultations have been happening since last year.  The Special Advisors are reviewing the input from the public consultations and commissioned research. An interim report will be released soon. and public comments will be taken after. The final report and recommendations are expected in Summer 2016. We continue to gather stories. Two of the Filipino Workers Network members deputed to tell their story. A few more workers have come forward to tell their stories. Would you like to make a difference and add your story to make our campaign stronger. If you know someone who:
will benefit if all employers must give 2 weeks notice for scheduling;
had to reapply for the same job when new management took over the business;
is getting paid less for the same job with the same employer;
went to work sick because they do not have sick leave;
can benefit from higher minimum wage;
has worked for a long term employer but does not get CPP and other normal staff benefits;
is too scared to report that their employer is ignoring workers' rights;
holds 3 part-time jobs because they do not know if they will get enough hours;
would benefit if we made it easier to unionize with a card check system.
 YOU CAN MAKE A DIFFERENCE by telling and sharing your story. Contact us. Email network@labourcouncil.ca