Yes, yes, yes!
FILIPINO WORKERS NETWORK POSITION PAPER
Thousands of Filipinos leave the Philippines daily to go to countries like Canada because of worsening economic and political situation in the Philippines. Canada is now home to us and we share in Canada's concern that we are losing good jobs, losing public utilities due to privatization and losing our rights and freedoms as a people. We are deeply concerned about poverty and injustices happening around us, about issues that affect the working families and the community. We fear for the uncertain future of our families, our children and our children's children. As Filipino Workers Network, we join in making a better Canada, a Canada that cares about its people. A Canada that protect the rights of workers and upholds the rights and freedoms of its people.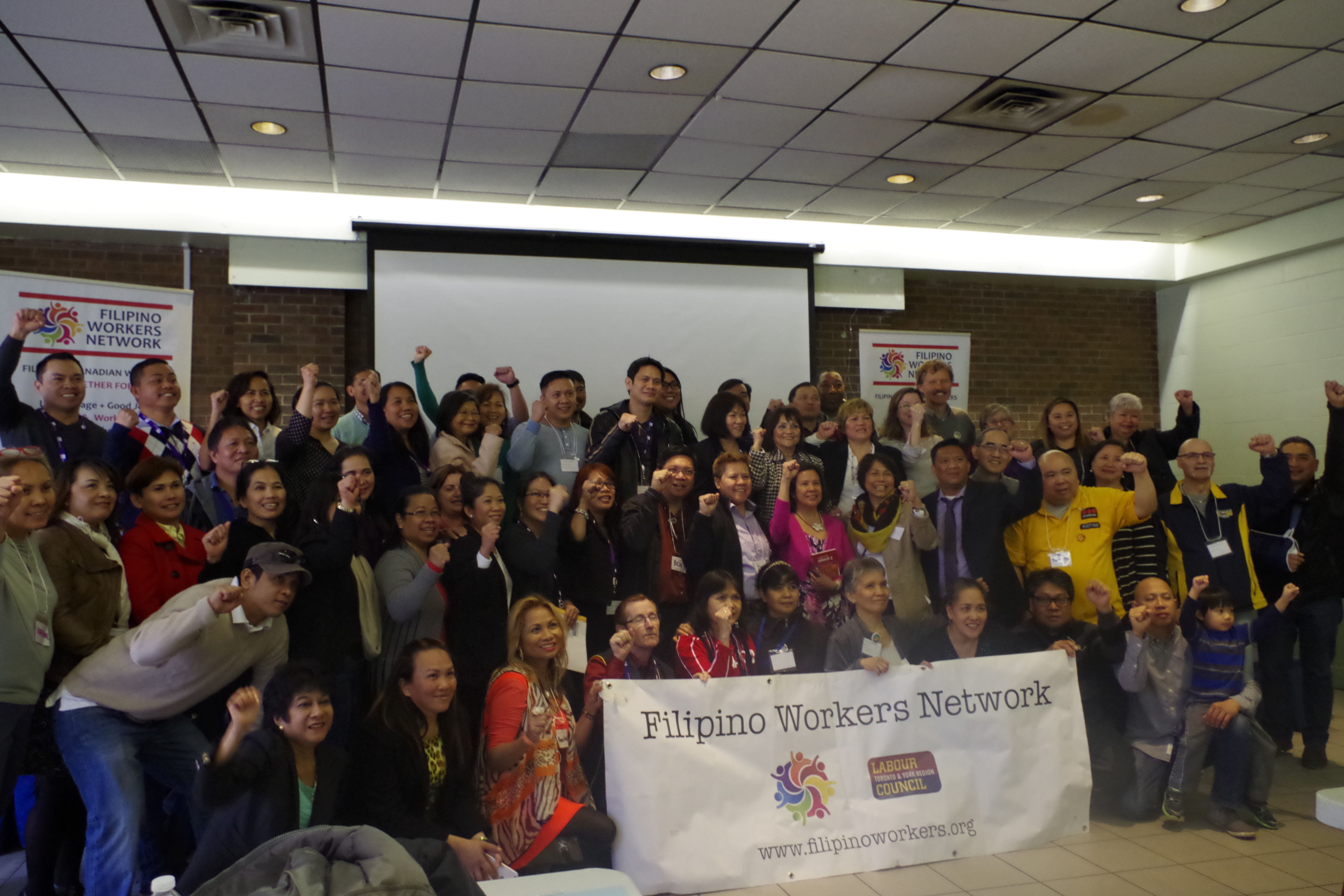 EMPLOYMENT STANDARDS, LIVING WAGE AND GOOD JOBS               
All workers are governed by the employment standard act. It defines the standards applied to all workers to afford them decent life and meet the basic needs of the workers and their families. ESA is the only protection for non-unionized workers. As Filipino Workers Network we are committed in the fight to improve workers' rights. We strongly support the changes to Employment Laws that will stave off poverty, benefits workers and lay the foundation for the next generation of workers. We affirm our support to demand equal pay for workers regardless of their status as full-time, part-time or temporary, their age, gender, student status or area of work; an end to the misclassification of workers as self-employed, instead of workers; adequate hours; fair scheduling with proper advance notice; at least 7 paid sick days; meaningful regulation of temp agencies; proactive enforcement of the laws using public sector employees; measures to make it easier for workers to join – and keep – their unions; a legislated, indexed minimum wage; and, fix EI program
PRIVATIZATION OF PUBLIC UTILITIES
We join and support the campaign to keep our public utilities public. Public utilities are ours. Selling it to private individuals and companies takes away our power as a people to decide and control these public utilities. By losing control, we lost the power to offer good services at reasonable cost to the people particularly the vulnerable ones.  As Filipino-Canadians we much ensure that any action by the government to take away our ownership of our public utilities must be opposed. We 1) Affirm the commitment to defeat privatization of public assets in Toronto, including the Parking Authority and the Toronto Community Housing Authority, as well as Toronto Hydro. 2) Support efforts at Toronto City Hall to strengthen defense of public assets, including educating union members and the public to prepare them for the propaganda campaign
CLIMATE CHANGE
There are no jobs if there is no planet Earth. We all know that our climate is affecting our very life. Our misuse and abuse of our environment threatens the whole world. Sometimes our jobs are directly destroying our planet. As Filipino-Canadians we are committed to protecting our environment and ensure that workers are protected when their jobs are being eliminated or changed due to transitioning to green jobs. This includes voice in decision-making, retraining, income bridging and unemployment benefits, and community investment for good green jobs. We must focus on making a better Canada, a caring Canada that protects the environment.
RACIAL DISCRIMINATION
We condemn racism. We remember the Filipino community's struggle in 1993 when Filipino youth were banned from the Scarborough Town Centre because they are Filipinos. We remember the mauling and killing of Mao Jomar Lanot in Vancouver. We remember the hate graffiti and physical violence against 25 Filipino youth at Vancouver Technical Secondary School in 1999. We remember Jeffrey Reodica who was shot by the police in 2004. We remember the racial profiling of young Filipinos in Montreal.
We, strongly criticize the use of racism and xenophobia to divide the community and stir them away from the real issues in the community. We must focus on making a better Canada. A Canada that embraces diversity, respects human rights and fights for social justice.  A Canada that cares about its people and the world.
TEMPORARY FOREIGN WORKERS / MIGRANT WORKERS
We strongly support the demand to permanent resident status for all temporary workers currently working in Canada. We are committed to uphold respect and dignity and better living and working conditions for all migrant workers. This will provide them with some leverage to negotiate their wages and working conditions which in turn will ensure a healthier job market that will provide better wages and working conditions for all workers in Canada.
We strongly criticize Canada's government for continuing to use the temporary foreign workers program to create second class workers. Migrant workers are placed in vulnerable position, open to further exploitation and abuse, and with little to no bargaining power. The effects to Canadian workers are also detrimental, as the reliance on cheap, flexible foreign labour pushes the overall average wages lower and fails to resolve Canada's high unemployment and lack of skills training.
Migrant workers' rights are human rights! Equal rights for all workers!
Presented and accepted by the Filipino Workers Network assembly on April 9, 2016 at the 25 Cecil St., Toronto, Ontario Canada.